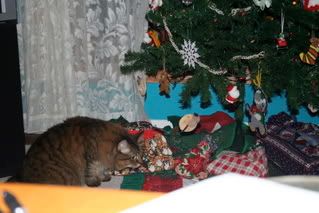 I am ever so excited. Momma sent off our secret paw today! YEAH! This is so nice. I am so excited about it. I am also excited about getting to play in the next CCSI! YEAH!
I guess I am the kind of cat who gets excited about things. Here I am getting very excited about the tree and the presents under it. There are more now, but I was investigating everything when it got set up!
We had snow on Saturday and then by Sunday it had rained so hard that it was gone. There are flood warnings all over the place now too because there is so much rain. I am glad that I live on a plateau, which I guess means I live up high from the waters so there isn't too much danger of flooding. This is a good thing because I do not think I would like getting all wet.