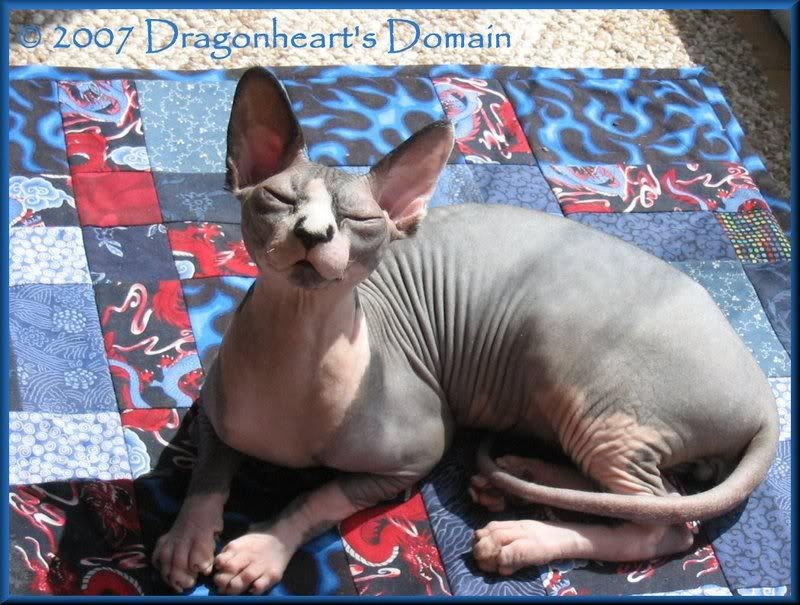 I admit to being a bit biased this week. I was looking to give this to Dragonheart as he didn't think he was funny. I had two other cats that were runners up. I mean, Tripper did have a great comment (but I think Gemini is loyal to Ping). Yao-lin also had a good comment about the potential threat of naked college cats on mycatspace. You know, I was just waiting for Dragonheart to post this particular photo–isn't it awesome?
Most importantly, this week, Dragonheart asked a question that has been much on my mind as go through this whole web thing. What ever happened to web 1.0? When did we get upgraded to web 2.0?
I'm glad that Gemini is back home and safe.

MyCatSpace? It seems like there are more and more of these social networking sites everyday. What do the techies call it, Web 2.0? I didn't even know there was a Web 1.0.

When it comes to social networking sites, I don't think anyone is going to be able to catch up to Catster. They have been around for a long time, in terms of internet time, and they have such a large user base. I don't know if anyone else will be able to challenge them, unless they offer something new or innovative that Catster doesn't offer. It also seems a lot of these sites include a journal or blog feature, when many of us have our own stand-alone blogs. It's too bad more of these sites don't offer tools to integrate with your existing blog.
I had hoped that perhaps other cats would take up his challenge and so we would generate discussion on this issue of what happened to web 1.0. I don't remember upgrading. All of a sudden it was there! And what's up with that? What if I LIKED web 1.0? What if I liked being non social? I am, after all, a cat.
I also, like so many of you, love promoting my blog. Wouldn't it be nice if I would just plug in a url and folks would get redirected right here? That wouldn't be so hard and it would be awesome for those of us with established blogs.
Dragonheart is a very smart cat and funnier (although not this week) than he thinks he is. So, now for those of you who ignored his comment: which do you prefer? Web 1.0 or Web 2.0 and WHY? After all, I'm still trying to figure out what the difference is.