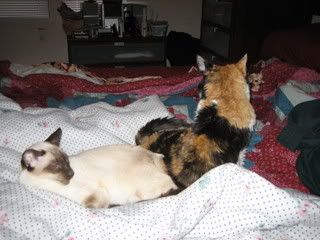 We found this photo of Georgia and I hidden on the computer.  It's a nice photo  of me. It's old because Georgia no longer has the ability to jump on the bed.  We're pleased because back in September they gave her six months to live at the outside.  She is still doing well.  It's been hot here and the heat seems to agree with her.
There are some new photos of her on the camera and the human male just needs to get his act together and load them onto his computer so the Woman can then get her act together and put them on photobucket so she can show off my gorgeous good looks!
<>We also have some nice photos of the yard too.