It's here! The big day is here! I'm so excited!
The reception starts at 5 PM EDT (2 PM for PDT) Click here to get to the chatroom. The password is LatteNChey.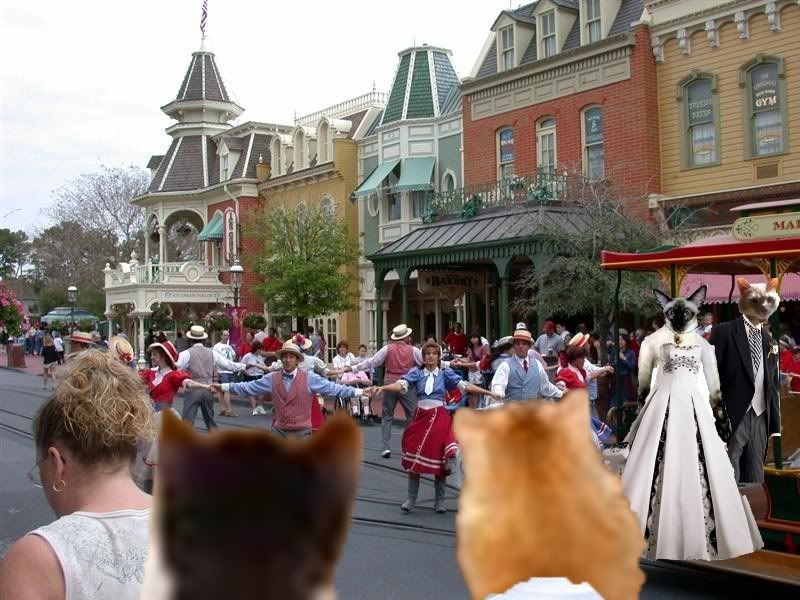 Here I am with Derby and we are waving as we enter the wedding. It was quite a casual day as you can see. Oh is that Obi from forty paws? I hope he gets to the main part of the wedding on time!
We had dancing and parading as I got to the castle. It seemed only fitting. After all it is the party of the year!
Here is the wedding party. I think everyone looked so smashing!
Yes that's my neice Stacy with the flowers. She made a very cute little flower girl. We wanted her to have a hat, but she ate it. She's good at that. People seemed to think it was cute that she ate her hat during the ceremony!
The Dalai Lama, Billy Graham and Starhawk jointly performed the ceremony which was wonderful. I did so want a non demoninational wedding and we had it. I think Rev. Graham was a little uncomfortable with Starhawk when she handfasted us but well, it was eye opening wasn't it. I suppose I should have told him BEFORE the ceremony that she would be there.
Here we are in the typical photographic wedding crowd! They wanted something more close up and so we all had to squeeze. I think everyone except perhaps Snap (who wants to eat Stacy's flowers) was eager to be off and get to the fun part of the reception and ride some rides. I know I was.
I do like this photo because it sort of shows everyone's personality so well. Miles is up to something, can't you tell? And Junior is being solid behind Chase. Chase is keeping a close eye on Miles though isn't he?
We did a little impromptu photo of just the family as we walked down main street where there was some music. It wasn't the really good stuff that would be happening in one of the pavillions but it was nice! And it's a great shot of all of us together. Even my adopted daughter, Tara is there with us.
She looks so lovely in her blue dress doesn't she? It really matches her eyes. I have to say I wondered if I shouldn't just go with blue for my dress because I have such stunning eyes!
Kaze, stop posing for your toms! This is my day!
Anyway, riding the rides was so much fun. Johnny Depp dressed as Captain Jack and toured us all through Pirates of the Carribbean! Al Gore toured us through It's a Small World. While that was sweet of him, I have to say Johnny is much more exciting.
We had several bands playing at various areas. And so many people. I couldn't believe that the Queen of England scheduled her trip to the US to coincide with my wedding. She was quite a good sport riding Space Mountain. She even managed to keep her hat on.
<>It was a struggle for my security people to keep Brad Pitt away from Kukka Maria. Of course, Oprah didn't help any. I had worried about inviting them but wasn't sure the Empress would actually show up for my wedding. I should have known that if the entire tom cat stable was there and vodka was around, she'd have to show up! She hid during the ceremony from the paparrazzi, which got in despite my security forces (sent to me as a gift from Hugo Chavez as he couldn't attend himself–some political thing?). However, when I discovered the problem I sent a couple of the larger gentlemen to guard Kukka Maria from anyone she didn't want to talk to. It worked out quite well and I think there's one security person that Chavez won't be seeing again as he seems quite devoted to the Empress.
I heard that there was a bit of a mess at the gate. Dick Cheney wanted to come and be part of things but security wouldn't let him in. He wasn't invited and I think it was rude of him to try to crash.
At any rate, a good time was had by all. Daisy and Skeezix enjoyed the car rides in fantasyland. Rocky liked the fast car at Epcot Center much better. Snap had the time of her life in Frontierland.
Everyone ate too much, had a bit too much catnip (including Bill Maher and Willie Nelson) and got a little silly. I think the wedding of the decade was a hit!