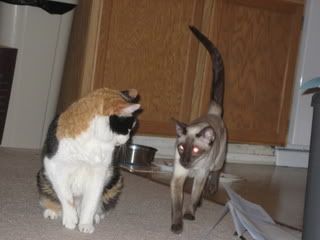 Here I am with Georgia.  I'm just hanging out, glad that she only likes canned food any more.  The woman will do anything for her.  I'm tempted to get a benign terminal illness just for the food!
At any rate, it's a comment Friday again. I'll feature whoever leaves me the most intriguing comment on Saturday.
By the way, it looks like most of you prefer the screech for convincing humans, with the hacked up furball coming in second.