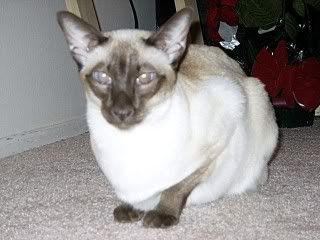 Yesterday, Cheysuli was grounded for inappropriate language.
"I'm happy that the outcome wasn't worse. They actually wanted to remove me from the household all together.  Fortunately reason prevailed," said Miss Cheysuli after she was publically humiliated censored by Gemini for calling her a "puffalump."
"You just shouldn't use that kind of language around a puffy cat. It's very insulting," said Gemini.
Cheysuli used the term after Gemini jumped down from a high place and attacked. Â  Turning to her attacker, Cheysuli allegedly said the word, "puffalump."
"Everyone heard her," said Gemini.  "Well that would be me.  The humans never really listen to us anyway and I think Georgia is hard of hearing."
"Gemini hears words that she hates all the time.   I said no such thing.  In the heat of the action of being chased and attacking, I think she made something up," said Cheysuli.  "Regardless of whether I did this or not, I am the one who is taking the fall.  It could be far far worse.  However, I've campaigned on the concept of honesty and responsibility so I will stand up and take my punishment."
"Really," said an annonymous source, "She lives by what she says. I think she'll make a great wife president."