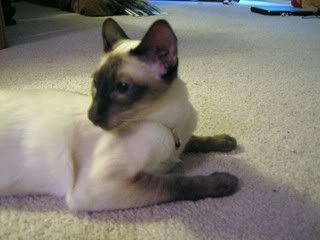 I'm glad that a post like Earth Day attracted so many cats to comment. I think everyone offered great suggestions in the comments. There are so many things one can do that you can't possibly do all of them, if you're a human.
Meezer Monday is here again and so I am showing off. This is another photo of me in my lovely collar that Mom Robyn made for my wedding. I'm not sure this is my best side, but considering I don't have a bad one, I'm not too worried.
What I really want to know, is who found my site with the phrase "goat marriage"? And if I can ask–WHY GOOGLE? WHY?!