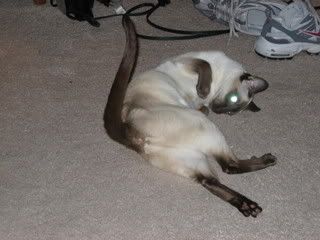 Well we got 57 comments for MS.  That leaves us at $28.50.  We'll probably round that up to an even $30.00. Thanks for everyone for participating!  My goal is still 100 comments for some charity and I'll always be leaving up the post until Monday so that anyone who misses out on the first day can comment over the weekend.
We had a pleasant weekend.   The geese woke us up on Saturday morning a bit on the early side, but it meant I got some breakfast.  I LOVE breakfast.
I was a bit in trouble this morning for playing with an old piece of paper I found.  I guess I was a bit noisy running around and woke up one of the humans.  I guess I really should learn to run and play some place other than the bedroom, no matter how much energy I have to burn off… after all I sat around all weekend checking on comments!