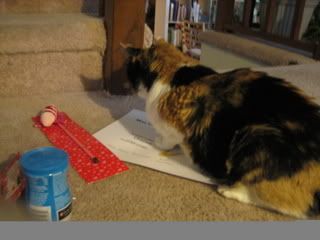 We have some wonderful photos of me hanging out with the cans of food that I was sent (and they were tasty). But here, we had to show off Georgia, showing what she thinks of the lovely certificate I got (in addition to my tiara) for being Miss Litterbox.
H ey–that's my toy you are smelling! That's my name you are sitting on. What do you mean you think it's a good thing that your behind covers my name? Is that any way to treat me? Just because you are rather old and sort of infirm does not mean you can just walk all over that framable certificate that Zeus must have spent and inordinate amount of time creating. Have you no shame?
Hey–why is she getting MY treats. Hello!!!!!!
Well anyway, even if Georgia is rude and sits on my certificate and bent it enough that it's probably not worth framing NOW (someone human FEMALE could have stopped her!) I want Zeus to  know how much I appreciated getting a few bits of my canned cat food (Georgia got the rest) and getting to play with my toy (AFTER Georgia smelled it) and getting to look at the can of treats (someone thinks I'm fat, although Georgia gets to eat them and quite likes them).   Sigh.  I win and what happens?  The others trade on my good looks and popularity. Sometimes I am tempted to reconsider the presidency when I am surrounded by such creatures as these.