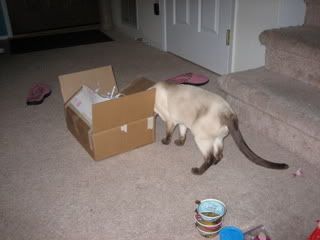 Well you all got to see Georgia destroying my wonderful Miss Litterbox certificate. Well here I am exploring the box that everything came in, just to make sure I had gotten everything!
I have to say that I am surprised at the responses to the open letter to Hills. We definitely feel strongly about our cat food don't we? Not that I am surprised, as I am very interested in satisfying my belly at all times.
At any rate, here's a question that perhaps you all can help me answer. Many of the diets that had products made a menu foods, said they had really good quality control. Their quality control was excellent. If they sub contract who actually MAKES the food for their companies, how much oversight do they have? Given that there are some sites saying Wysong contracts with Menu foods and other places that say Wysong contracts with a place called Evanger , how can we find out exactly who our food companies are contracting with to produce the food. Can we find track records for these companies as well?
Merrick foods does list on their site that they produce all their food in house. Good for them. Whatever level of quality control they have is probably actuallyoccuring.
Fellow cats: I am in a search and from this comes my Scavenger Food Hunt!!!
When a pet food company says they have excellent quality control, what exactly are they doing to insure this? What does this mean? What should we be looking for.
How do we find out who is actually producing the products and how to do we find out about these companies?
If you can only find out for one company, I'd love it if you sent me the link. If you have a link to a site that answers these questions, please place it in the comments!
Any type of contest needs a prize.  My prize for this contest:
A static webpage with the links you find me and a summary of what's on each of those links so that if we find ourselves in need of cat food information we'll all have a place to go to start looking at it.   I'll do my best to print factual information only about the cat food companies.  No opinions as to the quality of the food or what's a better food.