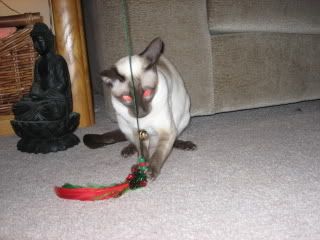 So it's finally the weekend. I've had a successful week as far as the fireside chat.  I'm getting things together for the wedding. Life is looking good.
Here I am with one of my favorite toys looking mean!  I love this toy. They hide this in the closet when they aren't playing with me.  Sometimes the woman doesn't close the closet door all the way and I sneak in there and pull it out to attack.
Yes, it was a Christmas toy but they've kept me from killing it. Â  You know with all my stress, I have to take my aggressions out on something!!!