I have been working diligently on all my resolutions. Today, I am mentioning Dragonheart in particular as my new blog reflects some of the resolutions that he suggested.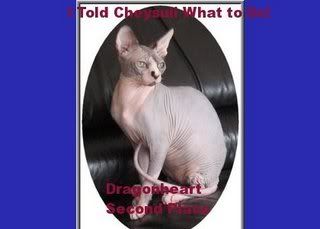 I have been visiting Race for Pets and the Animal Rescue Site regularly. We have links on our new blog to help me do that and also to help other cats visit as well.
I have worked hard to keep up with Frootbat Friday and Meezer Monday, although such participation can be difficult when my human is so camera challenged…
My human has taken it upon herself to keep me in shape, whether I want to or not. She works as a personal trainer tempting me with my favorite feather toy and keeps me from overeating (I HATE HER. HATE HER! HATE HER I DO!!!) but I am looking quite svelte and I'm sure such attention means that I will be a better candidate.
Dragonheart was my second place winner, but as you can see, I've managed to fulfill his resolutions quite well so far!