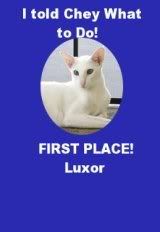 Luxor was the big winner in my contest. So how have I done with these resolutions?
Take a day off each week for nothing but fun. I've taken 7 days off each week! I have fun all the time
I'm ENGAGED! I think it's a cat blogosphere first. Just wait until you hear the plans. Of course this may mean I have to limit my nothing but fun days to 5 or 6 a week.
I've haven't shaken too many virtual paws but I've definitely started licking kittens, so I think I'm good.
I intended to have just a big announcement about my upcoming nuptials with Latte but here I've gone and announced it. I should have a party. I would have a shower, but I worry someone might take that literally… (like the human male-although he did actually log on and vote for Latte himself!) then of course there will be the wedding itself–where it will be the highlight of the cat blogosphere season.
Where to hold it? When to hold it?! Oh my!  And there's so much to think about. Who to have in the wedding…. but I digress. You must come back for answers to these pressing questions.  Today is about thanking Luxor and for the fact that things worked out in ways to help me with my resolutions that I could never have dreamed up!