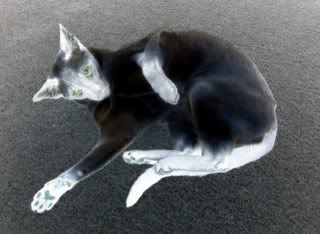 Well here it is Friday already (or almost). I have been embarrassed by the little cat for falling off the bed and I have been hounded out of my food by the Woman. What a week!
At the very least both the Woman and the human male (who I like much better since meeting his WONDERFUL son) spent an hour or so working on figuring out how to get my blog moved. The Woman has a small site that is currently blogless so we practiced what to do to move my site. The Woman is confident she can get it moved with a minimum of hassle now that she's done it once. Well, at least we can hope.
She has high hopes of getting the site moved this weekend sometime. She's moving over to Blue Host. She has her personal acupuncture site there and is very impressed with their response. She signed up and minutes later she got her confirmation email with where to point her domain name. She did that. Within two hours, Blue Host had called to confirm the name she was moving and to be sure she had gotten the email. Now that's service. She moved her personal acupuncture site because the last host hadn't helped her with an email problem and was very rude (which according to the host was okay because she was rude when she was frustrated).
Anyway, we'll be an addon domain there. Sometimes it can take the net up to 72 hours to resolve to a new host, so even if we get it moved as quickly as the last one, some people may find there's a lag on their server. Don't worry. I'll be back.
Oh and that's of course not really an xray. The Woman just liked the effect. She's weird sometimes.