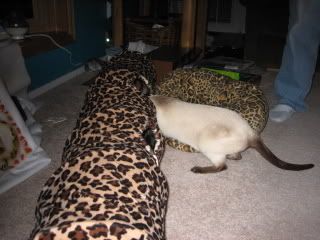 Okay, I have to admit, I haven't been online as much as you. The human male's son was visiting. He's on leave from the navy. He's stationed in Japan. He was here for about two weeks. Sigh.
Even though he's related to the human male, he is a fine, fine young man and I quite miss him.  Latte, there is no reason to be jealous as you are my favorite feline male!
Anyway, I thought I'd show a photo of me in the tunnel, which we got for Christmas.   That's the human male's feet right there and he was being useful for a change actually playing with me.   Remember, I am now owning the fact that I am a toy hog–and I love every minute of it!