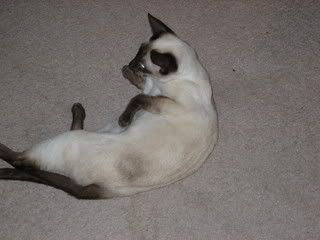 Kukka Maria thought that perhaps I had dated Rutherford at one time. While I set her straight that I am not that old (PUH LEESE!), it did make me realize something.
I do mention Rutherford on my website because he was president when the first Siamese cats were imported into the United States. I am sure that my many times great grandmother and great grandfather no doubt had great conversations with the president. I'm sure he'd have wanted to see them. As for any hint of an affair with my direct many time great grandmother, I don't think so. I mean after all, she was just off the boat from England and honestly, that sort of thing is just not done!
Of course interspecies dating was frowned upon a lot more in those days than it is today (no doubt a bit of thanks is due the feline empress). Anyway, I have no doubt that she has inadvertently solved the question of how I became a choice for the Rutherford B. Hayes fans in the world!